Giving immediate help to
people in need
Photos here show some of the emergency services provided by FISH of Cowlitz County to people in need. FISH churches distribute food each weekday and telephone volunteers help people with a variety of other emergency needs.
---
FISH of Cowlitz County helps people in ways that might seem insignificant, but to a family in financial crisis, a box of food, a prescription medication, help paying a water bill or treatment of an infected tooth can be essential.
FISH is an all-volunteer nonprofit that helps people immediately. A hungry family can get food the morning they need it. A person needing an antibiotic he cannot afford will have a prescription filled within hours of calling a FISH volunteer.
All it takes is a phone call to the FISH line, 636-1100.
---
     The value of FISH's help is told best by people who have received it. Here's what three recipients wrote about FISH:
"I've never been treated so kindly"
Thank God for your program!
My 3-year-old daughter was seen at ER today because she's been sick for 3 days.  She had a bad ear infection.  They gave her a prescription for antibiotics.
I don't have insurance due to losing my job and having to move here from Salem.  The prescription cost $130 and your program is covering it for me!
I'm in tears, I've never been treated so kindly or helped so easily.
Thank you all, God bless you.
An email sent to FISH website in February 2014

---
"You left me my dignity"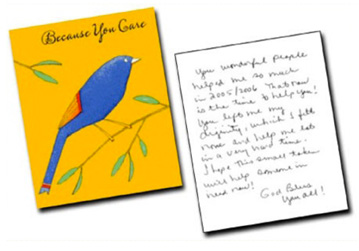 You Wonderful people helped me so much in 2005/2006.  That now it is the time to help you!
You left me my dignity, which I felt none and helped me lots in a very hard time
I hope this small token will help someone in need now!
A card sent years after FISH helped a woman
---
"I was homeless for awhile"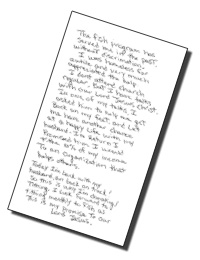 The FISH program has served me in the past, without discrimination.  I was homeless for awhile and very much appreciate the help.
I don't attend church regular.  But I have talks with our Lord Jesus Christ.  In one of my talks I asked him to help me get back on my feet and let me have another chance at a happy life with my husband.
In return I promised him I would tithe 10% of my income to an organization that helps others.
Today I'm back with my husband and back on track!  So this is why I am donating!  Tithing.  I look forward to tithing monthly to FISH as this is my promise to our Lord Jesus.
A note in an envelope with $500 in cash
---
Our name reflects Christian roots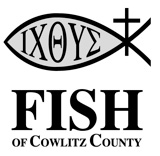 FISH takes its name from an ancient Christian symbol.  The earliest Christians risked death if they openly practiced their faith.  So they devised ways to meet secretly.  If a believer saw someone he thought might be a Christian, he would trace an arc in the sand.  If the stranger drew a "fish" with another arc, each knew the other was a Christian.  Later, Greeks added five letters that stand for these words: "Jesus Christ – God, Son of God, Savior." FISH of Cowlitz County has adopted the symbol and added the cross to emphasize the Christian connection.
---

   FISH of Cowlitz County is a United Way Agency
---
Home | How FISH Helps | Volunteer | FISH Is Frugal | Contact