Giving immediate help to
people in need
Photos here show some of the emergency services provided by FISH of Cowlitz County to people in need. FISH churches distribute food each weekday and telephone volunteers help people with a variety of other emergencies. Click on the "How FISH Helps" page to learn more.
---

Facts about FISH
• FISH enables people to get food, fill prescriptions, see a dentist, pay overdue water or PUD bills, buy boots or clothing required to start a new job or fill a variety of other needs.
• Help is immediate. Volunteers working from home can order a prescription to be picked up the same day or make an emergency dental appointment within 24 hours. All services begin with a phone call to the FISH line (636-1100).
• FISH partners with 17 Longview and Kelso churches to give away food five days a week. On an average day, 30 households totaling 104 people get free food. FISH buys meat, eggs and bread for every church.
• Food recipients may get food up to three times a month from FISH. In 2014 and 2015, no household exceeded the annual limit.
• FISH aids children directly and indirectly. In 2015, 40% of the food recipients were children. And 40% of households receiving water or PUD help last year had children.
• FISH delivers only goods and services. It does not hand out money.
It works with local businesses and agencies that bill FISH.
• FISH has no "means test" — people are not required to document their need. Volunteers trust callers who say they need help. That's why FISH can provide help immediately.
• Do the same people continually hit up FISH for freebies? No! FISH has volunteers assigned to monitor the frequency of use among all clients. Abuse is rare. When it is uncovered, clients are denied services.
• FISH has been serving Cowlitz County for 45 years, and doing so only with volunteers. Salary costs over the decades total $0.00. Overhead averages less than 4%.

---

FISH Fan Mail
Here are comments from people who have received help from FISH. Some come from notes and emails. Others were written on surveys FISH gave to food recipients.
"I am so very thankful for all that FISH has to offer. It helps so much. I love the volunteers at the churches."
"I want to thank you so much! You helped me get new glasses — I can see clearly now!"
Comments from five food recipients:
"FISH is the best food bank that I go to."
"I have always been grateful for your services. I don't use them often, but when in need very appreciative. Between jobs now."
"We are very grateful for helping our family in our hardship."
"I think FISH is wonderful. My grandchildren are always excited to see what they got."
"I feel blessed to live in a community that assists me when I am in need!"
From a single mother whose 3-year-old had a bad ear infection:
"My daughter needed a prescription that cost $130. I don't have insurance due to losing my job. Your program is covering it for me! I'm in tears. I've never been treated so kindly or helped so easily."
From a Castle Rock resident who needed emergency dental care:
"Thanks a million for your fast and friendly aid in my time of need — God bless you all at FISH!"
From a woman who needed medication available only in Olympia:

"I want to thank you for going out of year way to make sure I got the prescription I need. It may seem like a simple thing, but the list of symptoms my doctor gave me shows how serious this is."
Here's an easy way you can help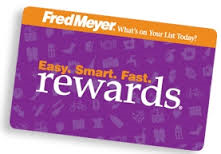 When you shop at Fred Meyer, you can link your FM rewards card to a charity of your choice (we're thinkin' maybe FISH). Each time you show your card at checkout, Freddies donates money to FISH. This in no way affects your own rewards. To link the card, go to www.fredmeyer.com. Then click on community rewards. then click on "link your rewards card" under "find your organization", type FISH then click on "Enroll" at the bottom of the page. Thank you!
Home | How FISH Helps | Volunteer | FISH Is Frugal | Contact